UpTogether Members and Community Make History in Texas
In May 2022, UpTogether members, together with community organizations and others, successfully influenced the city of Austin, Texas to bring a $1.1 million guaranteed income (GI) pilot to the city, making them the first in the state to do so using public, general fund dollars.
It's a real-life example of how UpTogether can drive systems change — We invest in families, amplify their stories to change the narrative and rally with them to change policies and practices that accelerate socioeconomic mobility.
We invested in Central Texas families
Since 2001, UpTogether has invested in families through unrestricted cash while learning from them and their community. In 2018, UpTogether expanded to Austin where it has now invested in more than 10,000 members. Austin's Guaranteed Income pilot was inspired by UpTogether's work, specifically a successful one-year pilot launched in Spring 2021. That pilot, funded by philanthropic dollars, invested $1,000 per month in 173 households in Central Texas (163 in Austin and 10 in Georgetown). Both city officials and community organizers in Austin helped design the pilot.
Members shared their stories
The UpTogether members who participated in the pilot shared stories about how the money impacted their lives and completed surveys to provide additional information about the impact.

6% of members who were renting in March 2021 became homeowners by March 2022.
Fewer members applied for subsidies, vouchers, or other similar housing assistance (from 27% to 19%).
The percentage of members receiving any type of government housing assistance was cut by half (16% to 8%).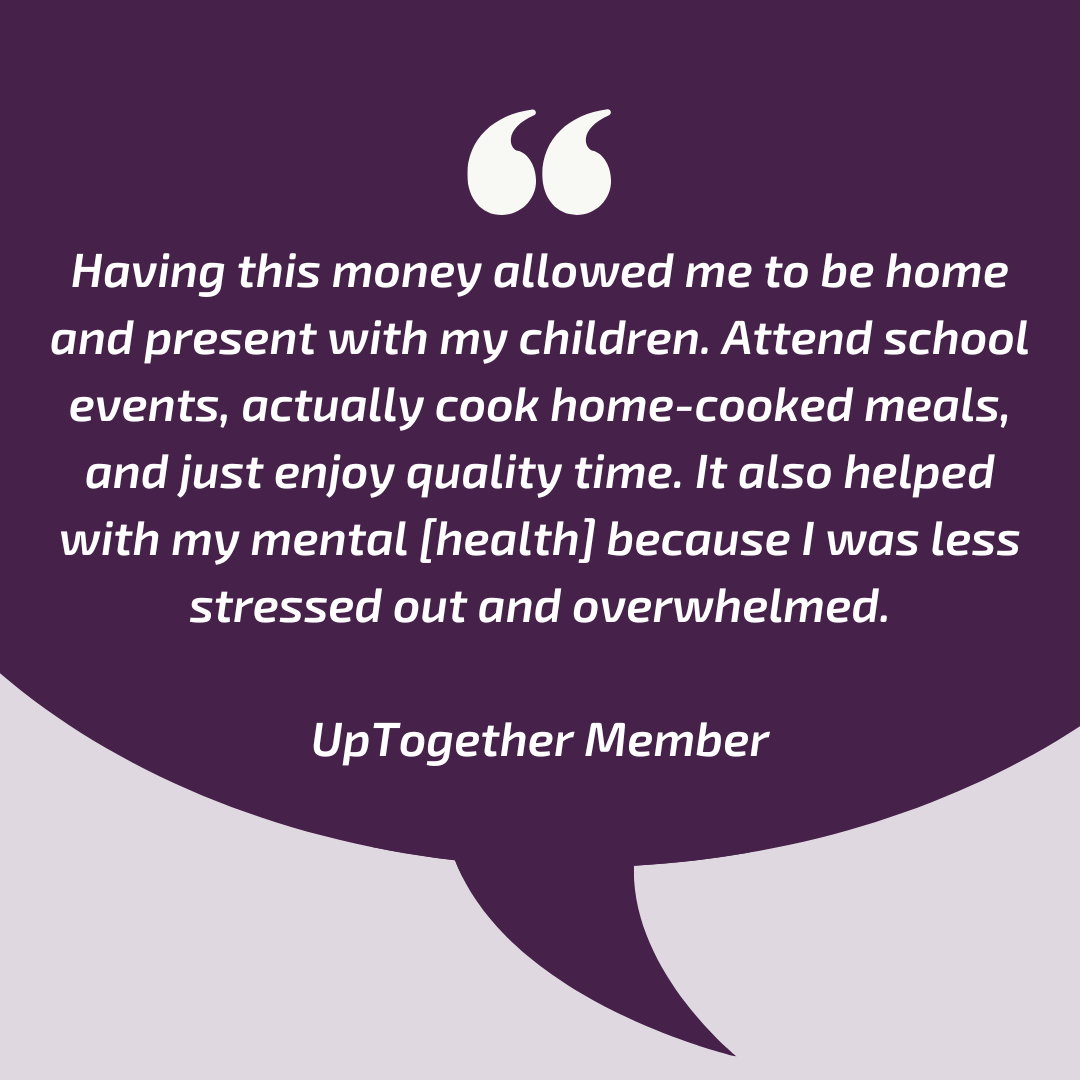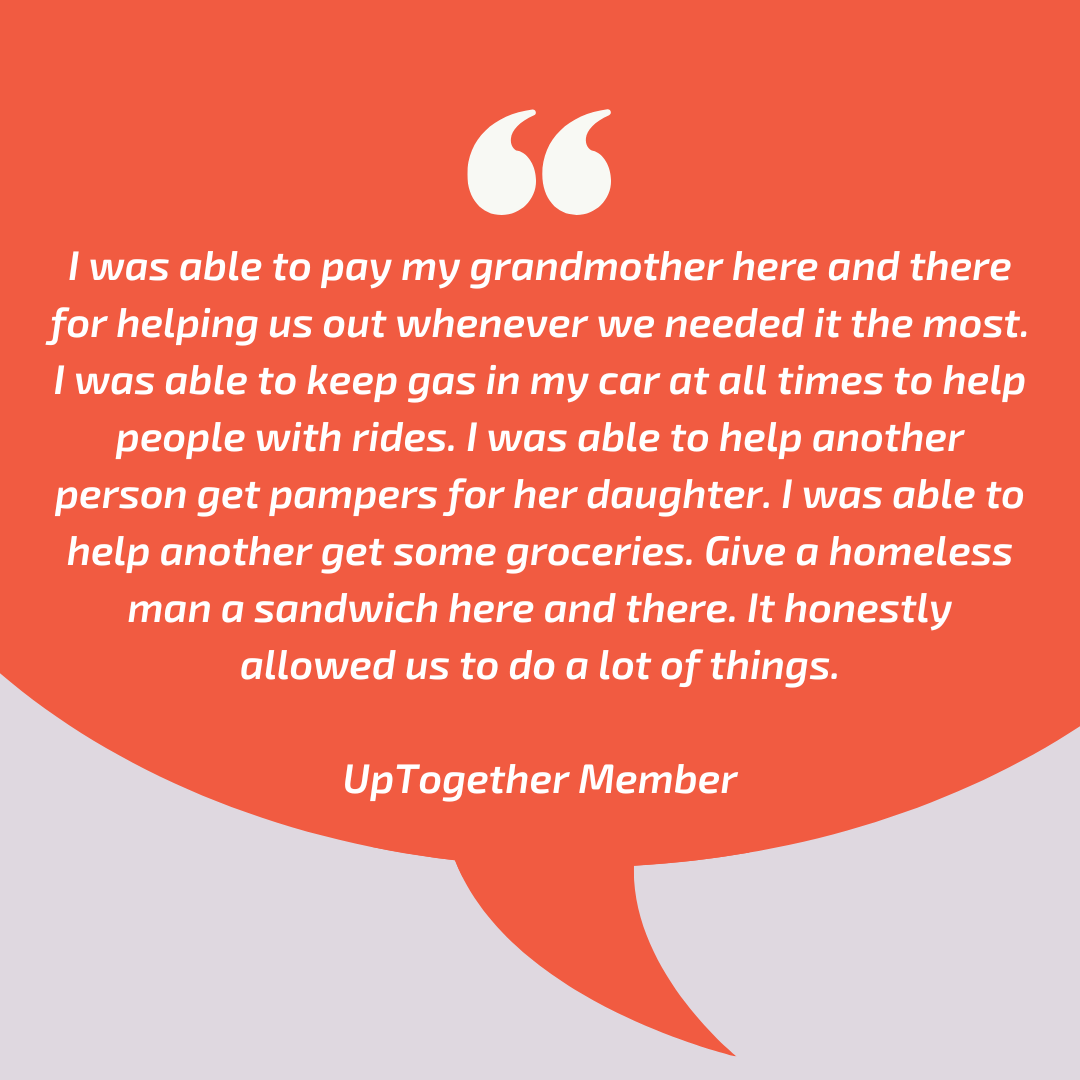 *Findings of people who completed surveys
We shared our early learnings with the City of Austin, which inspired officials to put forth a resolution to replicate the pilot using $1.1M in general funds, and to distribute the dollars in partnership with UpTogether.
That was only the first step. Council members still needed to vote on the resolution. That's when UpTogether members and community organizations stepped up and spoke out!
We Rallied Together
UpTogether members and community groups organized themselves and emailed, called and spoke with council members ahead of the vote urging them to pass the resolution. They even partnered with the mayor, council members and UpTogether staff to hold a press conference on the morning of the vote. And to make sure their voices were heard, dozens of them spoke at the city council meeting just before the vote.
As a result, the resolution passed and 85 households in Austin are receiving $1,000 per month for a year, ending in August 2023. Local philanthropists were so inspired, they donated money for an additional 50 families, bringing the total number of households for the pilot to 135! The pilot focuses on housing stability, by investing in individuals and families who are at risk of eviction or displacement and/or who are experiencing homelessness.
In addition to the money, the selected families can join the UpTogether Community online platform to connect with each other, share resources, support and help each other accomplish their goals.
Led by our members and their community, together, we transformed not just the Austin government's position on the value investing unrestricted capital in families, but we also planted seeds to help change the narrative about people and communities facing financial hardship so they can be seen for their strengths.
Interested in helping us change systems? Join the movement!